Italian Pinot Blanc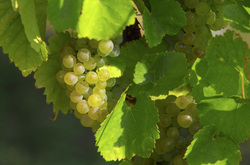 Wine Description
Often made for immediate consumption and not for long term cellaring. Wine shows a fruity and floral bouquet, with aromatics of apple and citrus and a soft minerality.
Juice Description
With a bright color when young, the juice of Pinot Blanc has a surprising floral note. With crisp acidity the juice has been mistaken for Chardonnay in many cases.
Grape Description
Grown all across Europe, the Pinot Blanc grape is a genetic mutation of the Pinot Noir varietal.
Its skin can have a high level of tannin and can be mistaken for Chardonnay as they are very similar in appearance.
Grapes taste crisp and tart.
---